Approaching things differently to standard gyms and physiotherapy clinics.
We strongly believe that offering you an integrated approach to your health will give you the best results and our track record of great results supports this. Whichever of our phases that you feel that you're in we're here for you, and have a range of services that will be able to assist you.
Whether your goals are big or small, we will help you achieve them.
Integrative Healthcare

Our integrative approach combines therapy and coaching under our four phases. Heal, Restore, Base and Perform.
Heal
This phase is characterised by you not feeling great. Be it pain, low energy or mood, you just know something's not right. Get the relief that you're seeking and take control of your troubles.
Restore
You're moving and feeling okay, but the quality is not quite what you want it to be. It's time to get yourself back to your previous level of function.
Base
Building the right base to ensure you're not headed backwards but are instead setting up for your future success. We're setting the right base so that you can handle your daily and physical activity demands with ease.
Perform
A dream without a plan is called a wish, but it doesn't have to be that way. Work with us towards the goals that you've always dreamed of.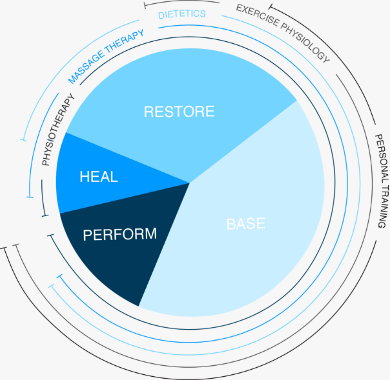 Your Goals

Your goals are as varied as you are.
We're sharing these personal goals with you, because anything is possible, and we love it when our clients embrace this. Whether you are at the healing phase of their journey or in perform, everyone has an aim, a wish or a dream and we work with our clients, and our supportive network of professionals, to make this possible for you. We see lots of different goals from our clients, and would love to share them all, but here are a few of our favourite client goals!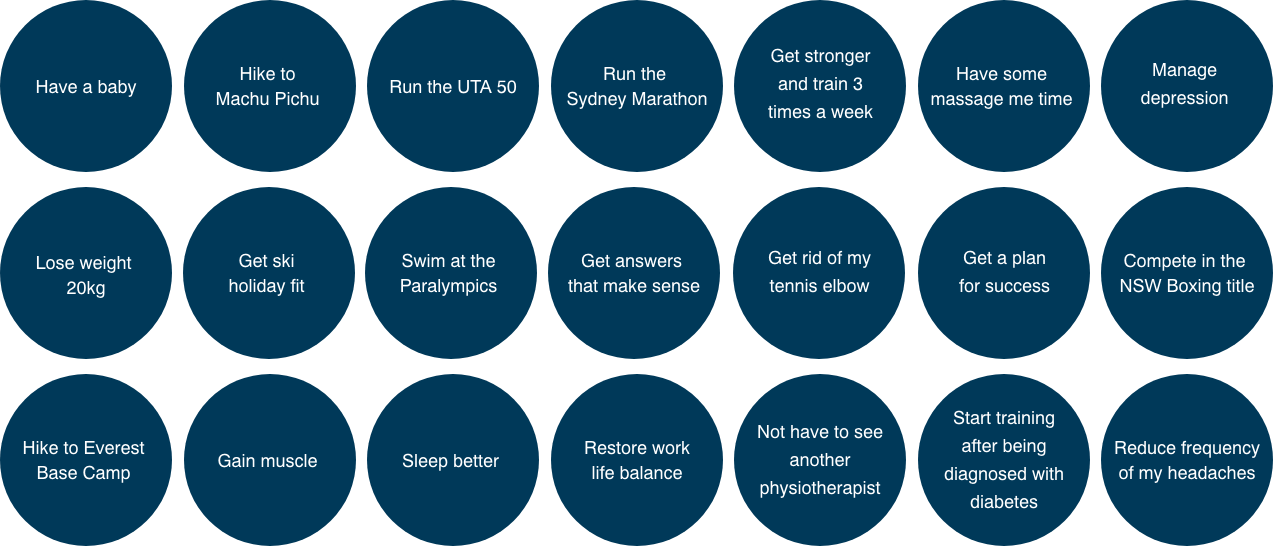 Our Story

Sean founded Healthfix in 2011 with the purpose of creating a health service that delivered lasting results and gave its clients the confidence to do whatever it is that wanted to do. Having a strong foundation in exercise from his personal training and exercise physiology background he had seen, even from early on in his career, that most great results came from guiding people to engaging in the activities that they love to do. Or, if they didn't have any, he'd enjoy going on that journey with them to find out what they were!
Sean saw that by creating a team that could all have one common goal of giving the client the best outcomes possible
At that time, exercising and active living as long-term health solutions for a large range of problems were known but no service existed to properly lead people there. Clinicians were accustomed to problem finding and would only elaborate on problems, the limitations of single service clinics or multidiscipline clinics that used subcontractors were that they were limited in a delivering a total health solution and problems either keep recurring or you had to keep going back for maintenance work.

Sean saw that by creating a team that could all have one common goal of giving the client the best outcomes possible with the combination of their skills would result in the best outcomes for the client in the most time-efficient manner. And then it worked! In its early years, Healthfix grew at astounding rates. By the time Healthfix was 2, we had 1000 clients, 4 therapists and a dynamic administration team led by Linelle all in North Sydney. By year 3 we were opening our second clinic on Walker Street and had more positive Google and Facebook reviews than we could've imagined.

What was most pleasing was that it was fulfilling a greater goal of creating affordable health care where business growth was supported by happy customers referring their family and friends rather than the customer continually having to come back and spending on their health. With the continued growth by year 4, Healthfix welcomed Ash into the business as a director. Trained as an occupational therapist and always having worked on the side of managing larger health solutions for larger companies like Sydney Water and Kmart, Ash was able to streamline our systems and operations.

Ash shared in Healthfix's philosophies, believing that health didn't mean the absence of injury or illness. As her time as Kmart's national injury services manager for Australia and New Zealand, her approach that focused on the person and not purely the problem saw her reduce the company's workers compensation liability by $7 million annual and win multiple industry awards.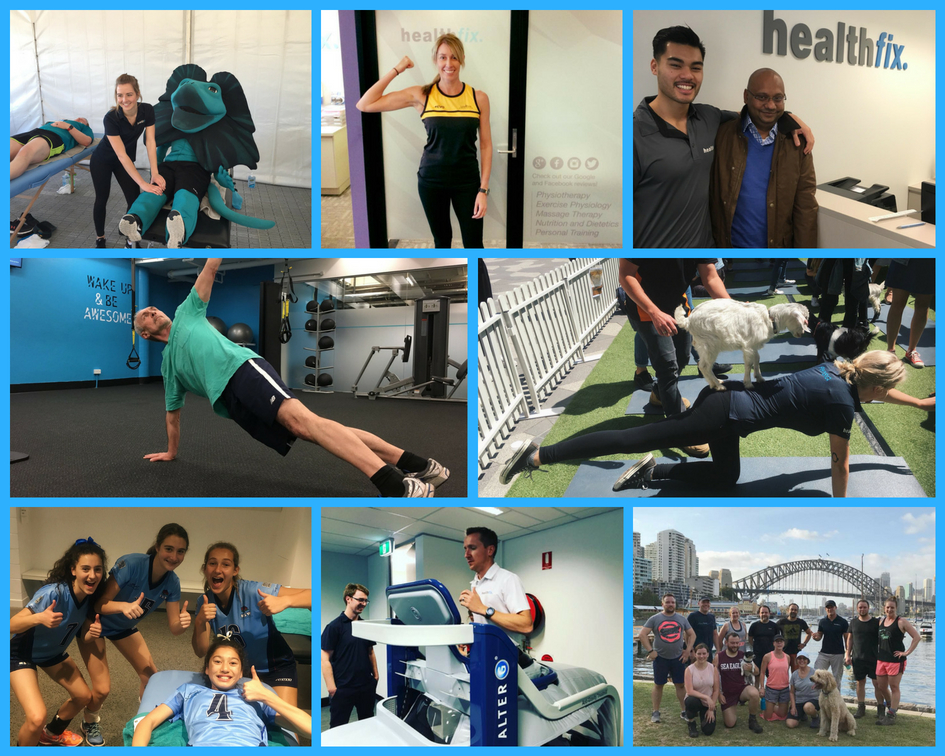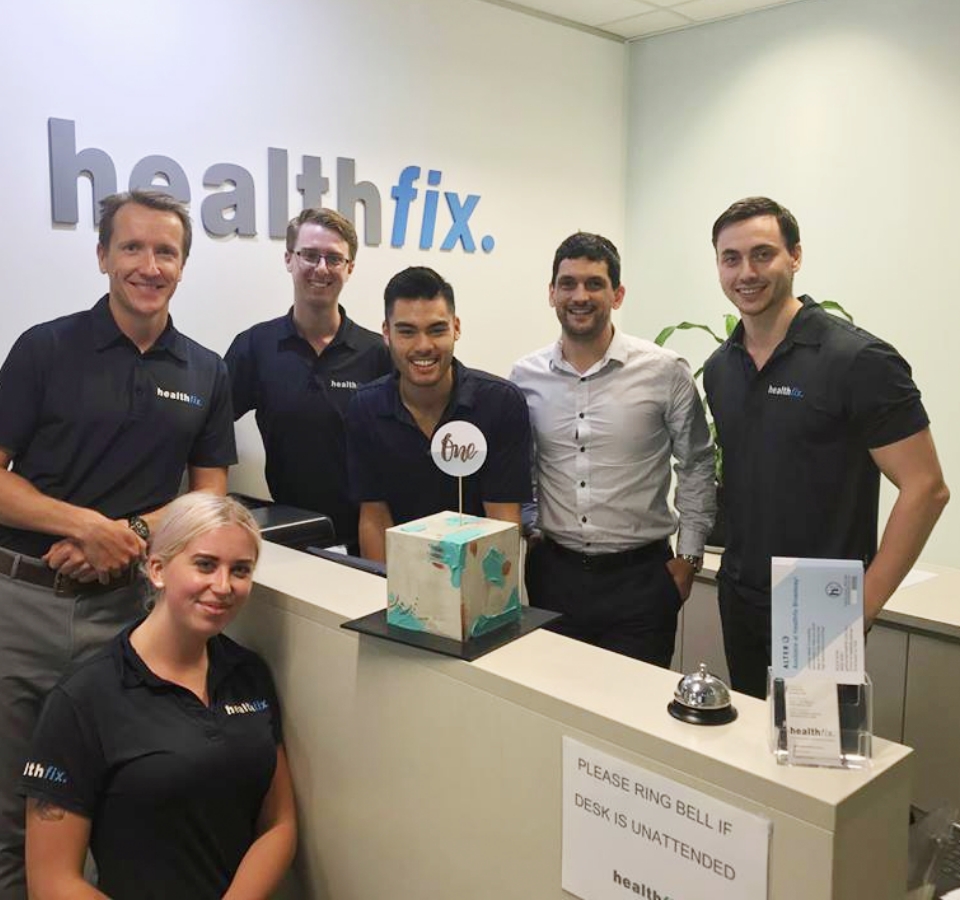 We continually work on processes to deliver even better results through an integrated approach
In to its 6th year and the growth continued, this time with a 3rd clinic opening in Broadway in the University of Sydney (UTS) precinct. Healthfix won the competitive tender over several leading companies for a "physiotherapy clinic" but highlighting the more modern and more effective approach of having an integrated clinic that used physiotherapy as part of a total solution. This clinic was to be affiliated with the UTS' Masters of Physiotherapy degree and as such they wanted their course to be aligned with current best practice. With the addition of this 3rd site, Healthfix welcomed Steve as a new director to steer the practice.

Steve with his background in personal training, exercise physiology and physiotherapy had already gone on to have a successful career in professional sport and with the NSW Police. His approach of developing smart health strategies and logical processes combined with his ability to lead a team saw him manage the Canterbury Bulldogs in the NRL and the Western Sydney Wanderers in the A-League during successful years and develop the NSW Police's RECON program that has drawn national attention.

Currently, we have grown to just shy of 6000 clients with a team of over 20 and servicing 550-odd consults per week. We have merged our foundation practice on Blues Point Road into our Walker Street clinic with big plans ahead for the future. We continually work on processes to deliver even better results through an integrated approach and we are happy to see when we are delivering better results in quicker time frames so that our clients are spending more time and money doing the things that they love to do.
Our Community Work
To create a healthy community, we know we need to be a part of it. We've understood this from an early point in time and would donate our cancellation fees to charities that were meaningful to our team and our clients. We've now been donating 50% of our cancellation fees for some time and this had made a great impact on a number of charities. Healthcare, particularly in a one-on-one setting like our personalised service, can be quite insular for the client, as well as the team member. We see the importance of being involved within the community to see that we're not alone with the health concerns we have.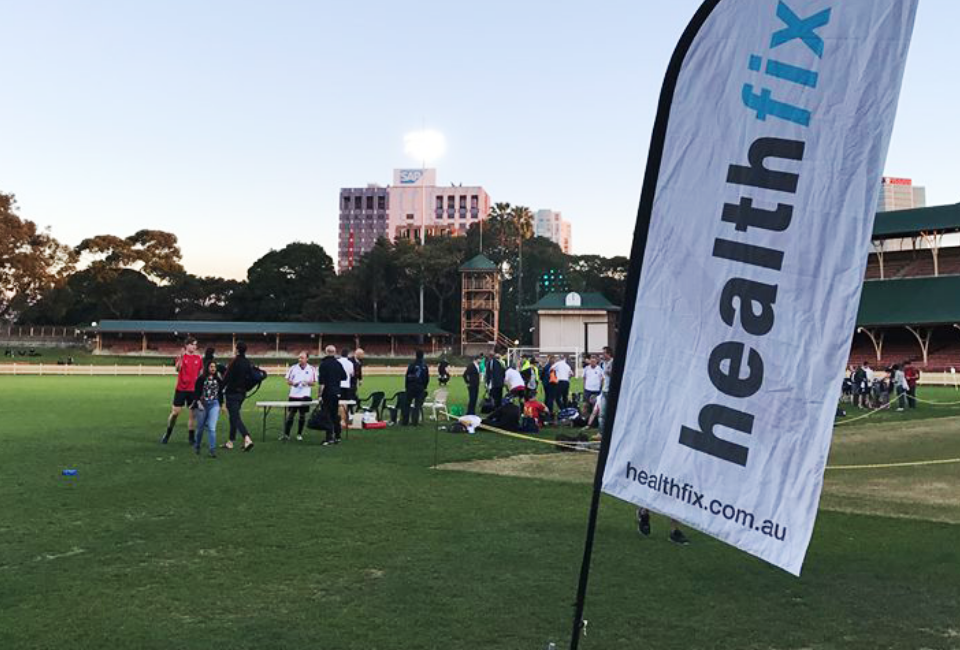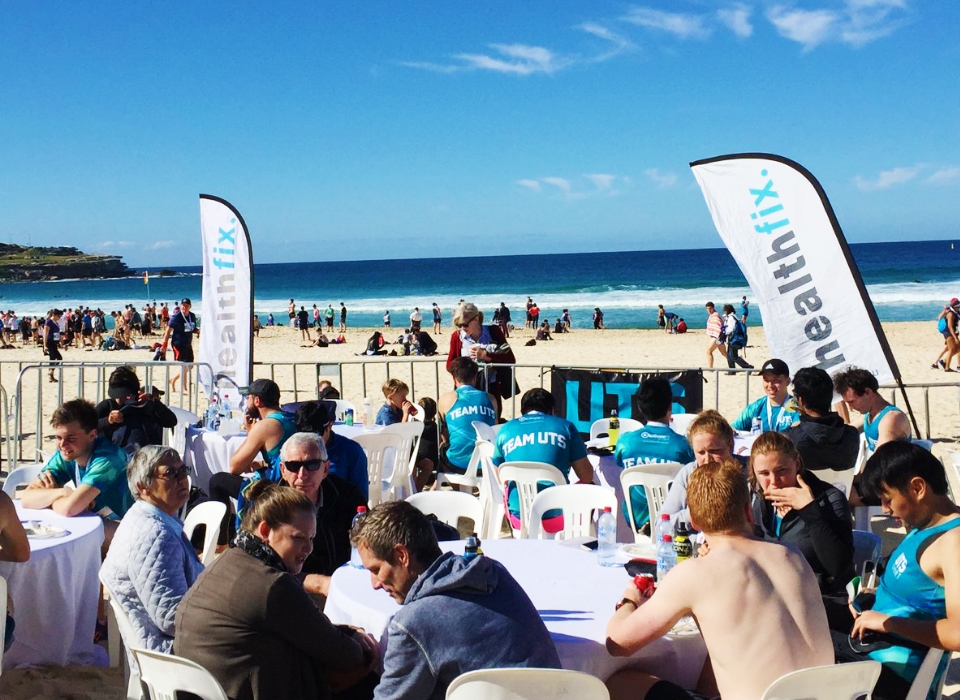 Our Projects
We set up an early relationship with CanToo due to their amazing program of raising money for cancer research through engaging people into long-term sustainable exercises of running and swimming. We are regular collaborators with our local North Sydney Council with running run clubs, outdoor group fitness training, creating health information through seminars, amongst other things. With the council, we regularly look for ways to improve the health of the community through their NTH SYD program based around health, wellness and community. Over our time we have donated thousands to multiple charities and are looking more into projects now where we can use our integrated service to have an impact on local health concerns. We'll update you on these as they happen!


Questions

When coming somewhere new we know there are always so many questions, that's why we're here for you. If you would like to ask us anything, please just pick up the phone or send us an email.
We've outlined a few of our commonly asked questions below to also help you out.
One of the first questions people have is often to do with the cost. The real value from Healthfix comes from the fact that we want to find long term solutions for you and pass on our knowledge so that you can self manage your own health. Our Physiotherapists will often discharge a client after a certain number of sessions as we want to give you the most efficient, cost effective way to improve your health. We also keep our appointments shorter than other clinics and gyms as we know how important time management is to a lot of our clients and want to be able to give you this short and efficient solution. Our prices are dependent on what session time you book for (the first appointment would always be a longer time) if you're personally able to claim via your insurance, if you work for one of our corporate partners and many other things. To find out the cost for a specific service give us a call and we'll be happy to help. Everybody's journey time and required number of appointments will be different and therefore we can give you a even bigger indication of what's right for you and the costs when you have your initial session with your required service/s.
Our initial appointments are slightly longer than our follow ups, we do this to give us time to carry out assessments and have some time to talk through your plan with you. We've given some approximate session times below, but please call us to discuss your individual requirements and we will be happy to give you more information. In general, our initial appointments are: Physiotherapy – 45 mins Exercise Physiology – 1 hr Personal Training – 1 hr Massage – 60 mins Dietetics – 45 mins Follow up appointments will also flex depending on your own personal requirements, but, to give you an idea, they often they are: Physiotherapy – 30 mins Exercise Physiology – 30 mins Personal Training – 30 mins Massage – 60 mins Dietetics – 30 mins
Our sessions are designed to give you all the tools during the session. However, to make sure that you get the most out of your time, the below are useful tips. – Arrive 5 minutes early so you can take a few moments to fill out our registration form – If you have any referrals, Dr's notes, scans, relevant blood tests, list of medications etc. please bring this along with you so your therapist or trainer can then review this during your initial. – For your Physiotherapy or massage initial it's great if you're wearing clothes that you can move/show that part of the body, so please bring shorts/singlet as appropriate. (we always have a spare pair of shorts here though!) – If you're coming for an Exercise Physiology or Personal Training initial come in some active gym clothes, even though it's not a full training session we're going to want to see you move, asses these movements and test your fitness. This is a lot easier if you're comfortable and can move freely. – If your coming for your diet initial please bring any information you have on your diet and current health if you have any of the following bring it along: e.g. food diary, blood test results, other health test results, known medication details etc. If you don't have any of this it's all good – just come as you are! – Look forward to it! We're here to help you on your health journey – we're looking forward to meeting you.
The simple answer is yes. It will depend on your level of cover on how much you will get back. Under your extras many health funds will cover Physio, EP, Massage and Dietetics and a couple of the funds have started covering PT also. Give your insurance company a call and find out what you're covered for and check that it's allocated to what you need. When it comes to paying and claiming, bring your health fund card with you on the day and we can swipe your card and submit the claim for you, leaving you just the gap to pay for personally. If you forget your card on the day, don't worry, pay in full and we can email you a copy of the invoice so that you can submit the claim yourself directly with your health insurance provider.
We sure do! If you've had a health condition for longer than 6 months speak to your GP and they may be able to give you an EPC/GP Management Plan – this will allow you a set number of sessions (up to 5 per year) to be partially claimed back via medicare (they give you a rebate of $52.95 per session). These plans can cover Physiotherapy, Dietetics and Exercise Physiology – depending on your health condition and requirements. Payment for a session on a EPC/GP Management Plan is required in full on the day (just like at private Dr's). If you bring your medicare card with you, we can then submit your rebate claim for you, and apply this back onto your debit card. If you don't have your medicare care on you we can email you the invoice and you can claim this rebate back personally.
Yes of course you can. We work with many clients who are having Physiotherapy and Exercise Physiology treatment as part of their insurance claim. We are used to dealing with the case managers and the forms and details that they require – you're in safe hands with us and we can help guide you through this process. If you're coming in for your initial appointment, and have the following please bring it with you: The date of your injury Your claim number Your case officers phone and email contact details Your certificate of capacity Your referral letter (if you have one) A duties description of what you do for work: position description or overview of job tasks
Yes. You're welcome here and we can of course treat you. We've had some great successes treating our DVA clients – if you would like to know more or would like to book in for your first session just get in contact.